Custom Labels & Signs
Streamline Your Storage Processes with our Custom Warehouse Labels
Are you tired of manual, time-consuming and error-prone labeling processes in your warehouse? Look no further! Our warehouse labels are the solution you need to efficiently organise and manage your storage space.
With our durable and long-lasting warehouse labels and signs, you can easily identify your products, shelves, and other inventory items. They are made from high-quality materials that can withstand harsh warehouse conditions and are resistant to fading and smudging.
Our labels come in a variety of sizes, colours and styles to suit your specific needs. Whether you need barcode labels, shelf labels, or custom labels for your warehouse, we have the right product for you.
By using our warehouse labels, you can save time and improve the accuracy of your inventory management. They help to minimise the risk of errors and misplacements, ensuring that your products are properly stored and easily accessible when needed.
With our easy-to-use labeling system, you can get organized in no time and streamline your storage processes. Say goodbye to manual and error-prone labeling processes and hello to a more efficient and organized warehouse.
Get started today and improve the efficiency of your warehouse operations with our top-quality warehouse labels!
What are the benefits?
Custom warehouse labels and signs provide numerous benefits to businesses:
Efficiency: they help to create a more organised and efficient workspace, making it easier for employees to locate and identify products. By labelling each shelf, bin, or rack, workers can quickly find what they need, reducing the amount of time and energy spent searching for items.
Easy inventory tracking: with clear and concise labelling, it becomes easier to manage stock, identify shortages, and order new items as needed.
Safety:  marking hazardous areas and providing clear instructions on the handling of products, the risk of accidents and injuries is reduced.
Brand reputation: with labelling and signs, businesses can make a positive first impression on clients and visitors, further boosting their reputation and credibility.
Custom Labeling Solutions
Certags provides custom labeling solutions for warehouses and industrial worksites. These labels can be customized with a company's logo, branding, or other important information to help identify the contents of a rack, its location, or any specific information related to the contents of the rack.
Common information may include:
Rack location
Inventory type
Inventory identification
Quantity
Date or batch code
Hazard warning
Barcode
Popular Warehouse Labels
These are some of the commonly used warehouse labels and signs. The type of label used can vary depending on the specific needs and requirements of the warehouse.
Barcode Labels
Shipping Labels
Warning Labels and Signs
Location Labels
Hazardous Material Labels and Signs
Shelf Label
Bin Label
Pallet Label
FIFO (First In, First Out) Labels
Inventory Labels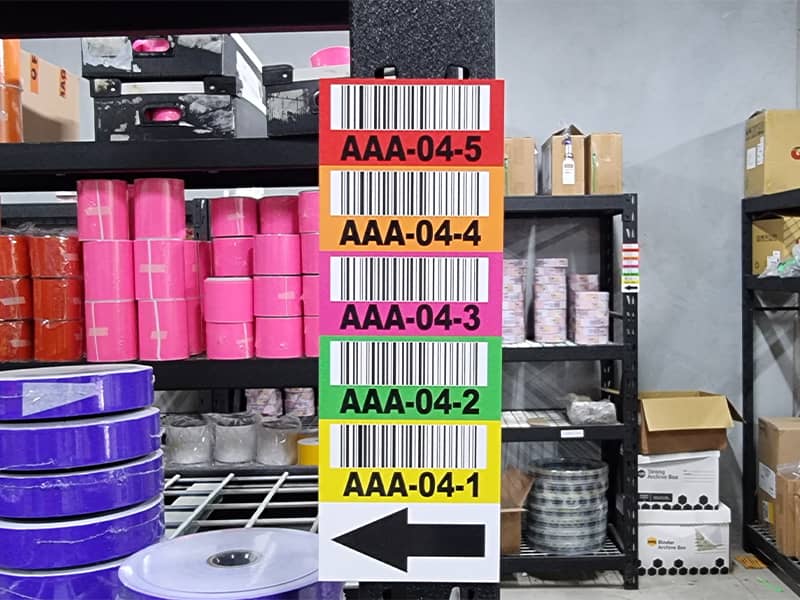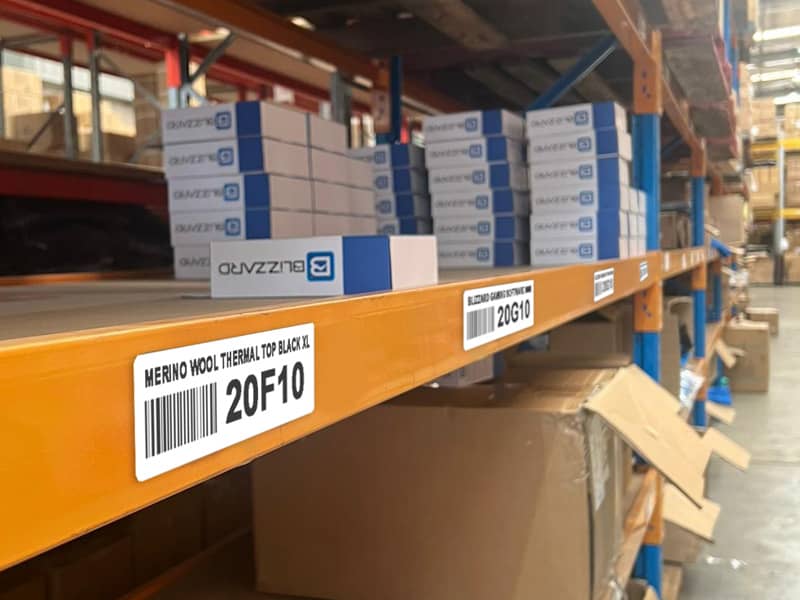 We can print any industrial label to suit your needs.
Fill out the form below for a free sample pack of products and a chat about how we can help meet your business needs.
Market leaders in industrial labeling
Certags is a worldwide leader in supplying industrial identification, certification and inspection tags, labels and stickers for heavy industries.
Maintain visibility, safety, compliance and track vital equipment. Our global network is the fastest growing today, with tag and label specialists located in Australia, Europe, America and the UK. Certags have been supporting clients working in the lifting and rigging, oil and gas, scaffolding, construction, height safety, warehouse, manufacturing, shipping, entertainment and engineering sectors since 2001.
By experiencing and understanding our clients' unique challenges, we can find the right tag and label solutions to keep operations running smoothly.
Quality Branded Solutions
Identify your industrial labels with custom branding and information of your choice, made with the highest quality materials.
Durable labels that won't peel at the edges
Variety of custom options such as laminate flaps, perforations and holes
Full colour printing
Large choice of materials and configurations, guided by our expert staff
Free complimentary artwork service with each product so your tags and labels come out just the way you want it.