Machinery & Heavy Equipment
Labeling solutions for machinery and heavy equipment: ensuring proper identification, maintenance record and workplace safety and compliance.
The importance of labeling machinery and heavy-equipment
When selecting labeling solutions for machinery and heavy equipment, it is important to choose high-quality labels that are durable and can withstand the rigors of daily use. Labels should be designed to be easily read and understood, even from a distance.
Proper labeling solutions for machinery and heavy equipment can help ensure workplace safety, maintain accurate maintenance records, and provide clear identification for equipment. By utilizing durable and legible identification labels, equipment can be easily identified by workers, reducing the risk of accidents and improving overall workplace safety. Inspection labels can also be utilized to keep accurate maintenance records, ensuring that machinery is properly maintained and minimizing the risk of breakdowns. By implementing these labeling solutions, employers can improve workplace safety, maintain accurate maintenance records, and ensure compliance with relevant regulations and standards.
Labels and Tags for heavy equipment and machinery
Durable Materials: tags and labels for heavy machinery need to be made of durable materials that can withstand harsh conditions and last for a long time.
Legible Text: text should be easily readable, even from a distance and must include important information like make and model number, serial number, and inspection date.
Adhesive Strength: strong adhesive properties to prevent them from falling off or becoming damaged during use.
Resistant to Chemicals: heavy machinery is often exposed to various chemicals, such as oils and solvents, which can cause tags and labels to become damaged or unreadable over time.
Color-Coding: it can be used to indicate different types of equipment or to differentiate between inspection status and make tags and labels more visible, even in low-light conditions.
Easy to Apply: easy application, even in tight or hard-to-reach spaces.
Compliance with Regulations: tags and labels must comply with relevant regulations and standards, such as OSHA and ANSI standards. Compliance with these standards can help to ensure the safe operation of equipment and prevent accidents.
We can print any industrial label to suit your needs.
Fill out the form below for a free sample pack of products and a chat about how we can help meet your business needs.
Print on site label features
10x thicker label stock than other leading brands on the market
Ideal for printing shipping, warehousing & asset labels
Label stock comes as Aggressive Adhesive, Repositionable Non-residue Adhesive or No Adhesive Tag Material
Label stocks available in a range of sizes to suit your needs
Printer comes with free software
Lifetime warranty
Pre-printed label features
Fully customizable with barcodes, qr codes, sequential numbering and your branding for better visibility
Come in a wide range of materials, shapes and sizes
Full-color printing available
Heavy duty and hard-wearing. All our labels are made to withstand a minimum of 5 years in outdoor conditions.
UV stable, weather and chemical resistant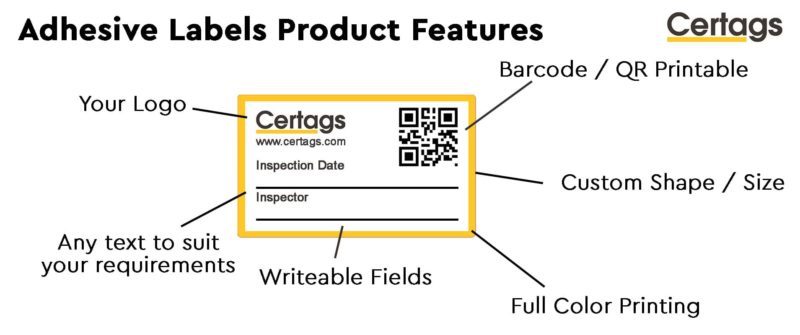 Market leaders in industrial labeling
Certags is a worldwide leader in supplying industrial identification, certification and inspection tags, labels and stickers for heavy industries.
Maintain visibility, safety, compliance and track vital equipment. Our global network is the fastest growing today, with tag and label specialists located in Australia, Europe, America and the UK. Certags have been supporting clients working in the lifting and rigging, oil and gas, scaffolding, construction, height safety, warehouse, manufacturing, shipping, entertainment and engineering sectors since 2001.
By experiencing and understanding our clients' unique challenges, we can find the right tag and label solutions to keep operations running smoothly.
Quality Branded Solutions
Identify your industrial labels with custom branding and information of your choice, made with the highest quality materials.
Durable labels that won't peel at the edges
Variety of custom options such as laminate flaps, perforations and holes
Full colour printing
Large choice of materials and configurations, guided by our expert staff
Free complimentary artwork service with each product so your tags and labels come out just the way you want it.