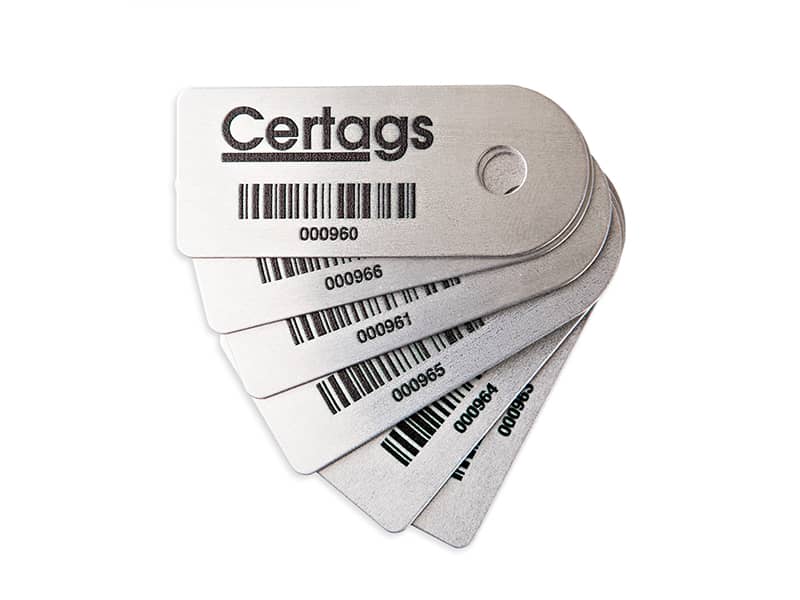 Metal Tags and Labels
Custom tagging solutions for your assets and equipments.
Certags can supply adhesive and non-adhesive metal tags and labels printed with barcodes, QR codes and serial numbers. In cases where crucial assets and equipment must be labeled with essential data, etching provides a permanent record of information that won't fade over time.
We offer stainless steel and aluminum with various thicknesses to suit your application and environment. Choose from laser-printed or etched and filled print.
Popular applications include:
Equipment Nameplates
Heavy Machinery Metal Tags
Asset Id Metal Tags
Metal Asset Tags
Metal Valve Tags
Metal Inspection Tags
Metal tags can be attached using our quick screw wire rope connectors.
Features of Certags Metal Tags and Labels:
Adhesive and non-adhesive options
Choice of stainless steel and aluminum
QR Code, barcodes and sequential numbering
Custom shapes and size
Various thickness available
Full Color Printing
Have any questions or specific business requirements? Our friendly and knowledgeable team are happy to advise you on product options and configurations.
Want a quote or have a question?
Our team is happy to provide suggestions and answer any questions you may have, as well as send you complimentary product samples relevant to your needs.