Adhesive Labels
Heavy Duty Industrial Strength Labels
Certags manufacture heavy duty adhesive labels available in a range of materials  and specially designed to handle powder coated, oily and rough surfaces  and to resist harsh industrial environments .
The three-fold adhesion value provides the adhesion reliability you need when labelling products, tools, assets, or inventory.
Main features of Certags Adhesive Labels:
UV, heat, moisture, water, chemical and oil resistant
Industrial strength adhesion
Permanent adhesive
Won't fade
Strongest adhesion on all type of surfaces: rough, textured, low surface energy plastics, painted metal
Full or Partial Laminate
Entirely customizable to your industry or business needs
Can't find the right label or looking for specific applications?  Get in touch with our expert team for customized labels solutions.
Appliance Test Tags
Our low-profile industrial stock. Self-wrapping, ideal for curved surfaces.
Read More »
Outdoor Polypropylene
Low Profile Economy stock for your equipment and asset identification and inspection needs.
Read More »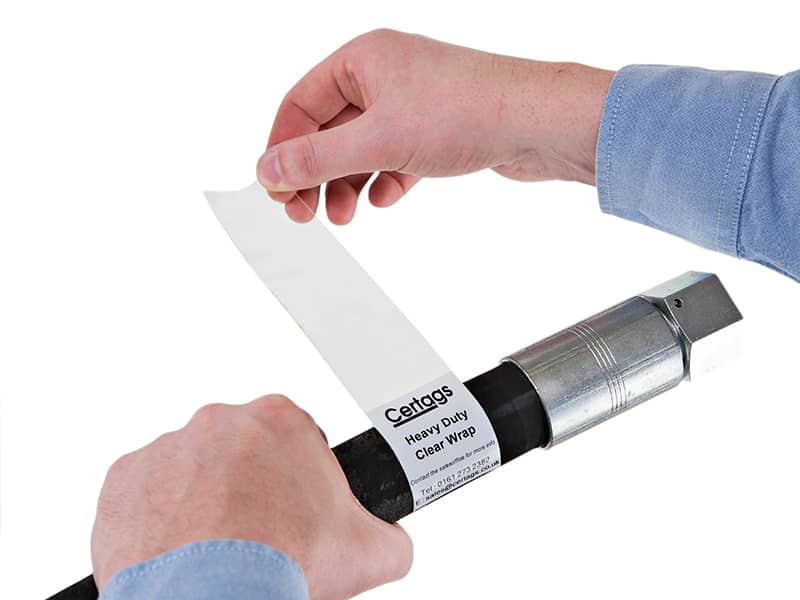 HD ClearWraps
For Heavy duty applications that requires extra-strength. Wrap Around hoses and cables and protect your information with the clear tail.
Read More »
ClearWraps
Low profile and affordable. Wrap around cables and hoses and protect information with the clear tail.
Read More »
Premium Vinyl
Perfect for general safety and facility labelling, pipe marking, 5S/6S labelling and more.
Read More »
HD PVC
Our Heavy Duty PVC and automotive adhesive combined make this the toughest adhesive label around. Able to bond to all kinds of surfaces.
Read More »