5 Industries that benefit the most from Asset Identification and Asset Tracking
When companies have never used asset tracking before, their primary concern is determining which assets to track and how they can help grow their business. Asset identification and tracking has been tried and tested in manufacturing, construction, healthcare, the automotive industry and education sector.
Asset management and tracking can be beneficial to almost every sector.
Whether you are recording asset maintenance for safety compliance or tracking asset locations, asset tags and labels can make the process simple and efficient.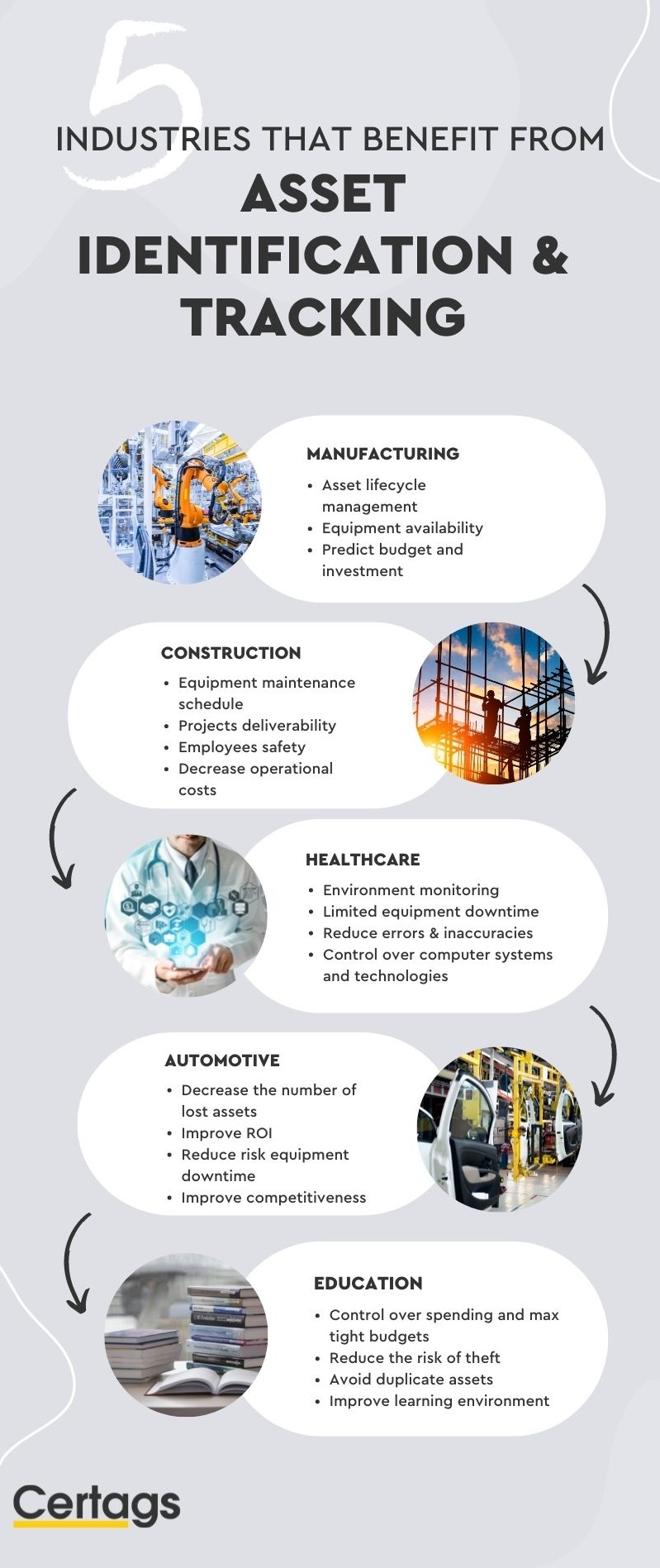 Manufacturing
Asset management is becoming one of the main strategies for businesses operating in this asset-heavy industry. 
A significant benefit of asset management is maximizing a company's tangible assets to their maximum potential. An asset management strategy can help manufacturers increase performance by decreasing operational costs and extending equipment life cycles.
Regardless of size, there is an asset management solution to meet your needs.
Some of the benefits of using an asset tracking system in the manufacturing industry are:
Minimize the costs of asset lifecycle management

: keeping track of the maintenance history and having the equipment regularly serviced will extend its lifecycle and decrease operational costs due to breakdowns; 

Instant and easy access to equipment maintenance history

: asset management will allow access to equipment life and repair history by simply scanning a barcode;

Ensure you have the proper inventory, materials and equipment available

: by quickly accessing data, a business can optimize project management and planning,  ensure that operations run smoothly and provide the best customer service;

Predict and budget for future equipment and maintenance costs and investments.
Construction
For construction projects to succeed, equipment maintenance is essential so projects run smoothly, scheduling setbacks can be avoided, and deliverability time can be met.
Asset management in construction is the ability to manage and monitor all of the items of value to the company and for the project such as trucks, heavy equipment, tools, machines, building infrastructure and more. 
An asset tracking system is an essential tool for preventing enormous losses and facilitating the growth of the company in several ways. 
Some of the benefits (but not limited to)  of asset tracking in the construction industry are: 
Easily keep track and schedule equipment maintenance;
Keep projects on schedule

by avoiding sudden equipment breakdown and downtime;

Ensure employees and workplace safety

from malfunctioning machinery  and meet regulatory standards;

Decrease operational costs

by extending the usability of equipment and machinery;

Improve customer service

and brand loyalty by meeting deadlines and projects scheduling;

Save time and money

by knowing exactly what assets are available and what new assets the company need to invest on;

Know where construction assets are at all times.
Healthcare
A proper asset management system can transform the way the healthcare industry tracks resources in real time. Practitioners manage a wide range of medical emergencies, which requires access to the latest tools and technologies to intervene in any situation in a timely manner and assist patients effectively.
Some of the benefits that asset management can bring to businesses operating in the healthcare industry are:
Real-time accurate environmental monitoring

that reduces inventory costs and improves services provided to patients;

Address specific issues such as

cataloging errors, equipment hoarding, patient and personnel monitoring, inventories inaccuracies and missing or stolen equipment;

Monitor the status of each piece of equipment to ensure

limited to no downtime

;

Maintain control

over numerous computer systems, software applications, tablets, and applications designed specifically for healthcare industry;

Increase asset productivity and usability by making them easier to find
Automotive
As with any business that relies heavily on the use of tangible and intangible assets, the management of automotive assets is essential for helping the business in monitoring the most valuable ones.
The automotive industry relies a lot on the intensive use of machinery and specific equipment which could create important losses if productivity is reduced or in case of breakdowns. 
The major benefits of asset management in the automotive industry are
Reduced unplanned downtime of automotive machinery and  equipment

by employing a preventive maintenance approach rather than a reactive maintenance approach, which means scheduling regular equipment maintenance rather than having to fix them after a sudden breakdown (which certainly costs more);

Reduce the number of lost, misplaced or stolen assets

by using RFID tags, QR codes and barcodes systems

(internal link to products page);

Monitor asset life-cycle

so operational managers can better organize asset

planning, acquisition, operations, maintenance, and disposal;

Improve

and understand each asset's loss of value and its specific return on investments

(ROI).
Take your fleet management to the next level:

an appropriate

asset management system can help improve vehicle dispatch and scheduling, reduce fuel consumption, ensure driver safety and plan the acquisition of new vehicles and assets.

Be more competitive.
Education
With the proper asset management tools, primary and secondary schools can ensure the availability of assets to all students and staff members.
As they operate in several buildings and a multitude of departments, education institutions have thousands of assets that frequently move from location to location so it's important to have an adequate system in order to avoid losses. 
The amount of variety of assets implied in schools and education providers can range from fixed assets to computers and laptops making management even more challenging.
Some of the benefits that schools and educations providers can find in asset management are:
Keep track and have more

control over asset spending

by each department or school and comply with the education provider requirements;

Reduce the risks of theft

or stolen assets and safety measures of your assets, whether it's a book or a laptop;

Avoid duplicate assets

and maximize the current ones the school have already available;

Save time and resources

by reducing manual asset auditing;

Build a greater learning environment

by providing students with a seamless learning experience. 
In today's competitive marketplace, industries must choose the right growth options to scale and expand profit margins.
In every industry that uses equipment/machinery and maintains an inventory of assets, an asset management system is applicable because of its adaptive nature. Businesses across many industries are realizing the benefits of asset management solutions, so your business is very likely to be able to take advantage of them as well.